Back
Legal Ops Knowledge
Legal Ops: A simple decision making framework to drive legal team transformation
Bring a legal ops perspective to every day legal team decision making
9 minutes • 23 Jun 22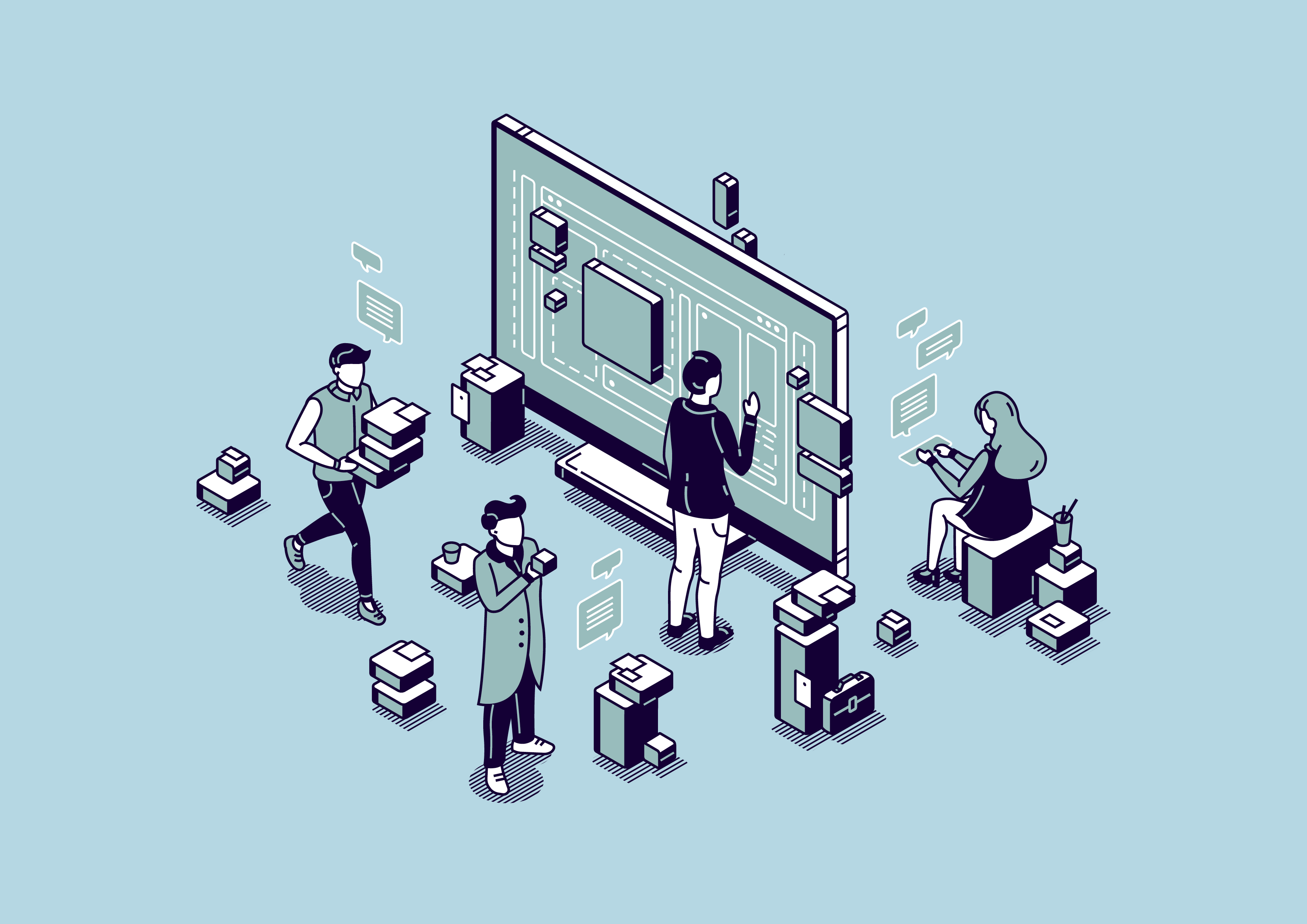 "The most successful legal teams demonstrate surgical focus, sharp prioritization, the ability to leverage resources, and the ability to validate their performance. Your legal team can increasingly achieve these outcomes each day with GLS's RPLV Decision Making Framework."
Legal Ops: Decision making that drives legal efficiency
In our recent blog "What is legal operations and can it benefit all legal teams?" we defined "legal operations" as:
"the means of maximizing the productivity expression of ALL available legal team resources, in provable ways, and which drive legal team value recognition."
We also said that:
"Our definition of legal operations is really simple. It simply requires legal teams putting more conscious thought into the use of legal department resources and trying to track performance outcomes"
In this blog we are going to show how easy it is for any corporate legal counsel team to put our concept of "legal ops" into practice - without needing the support of dedicated legal operations team.
In this blog we introduce you to a simple and effective decision making framework that will help you transform your legal team into a far more productive and value generating legal functions through an active legal ops agenda.
We would like to introduce to our "legal ops" decision making framework - what we call RPLV Legal Transformation Decision Making ... or just RPLV for short.
And one last thing before we get going - we use "legal transformation" and "legal ops" as interchangeable terms - as both are describe the means of achieving greater levels of legal team productivity.
Legal transformation decision making
GLS's RPLV Decision Making framework is free and simple decision-making framework that legal teams can use to ensure that all decision making is placed in a performance transformation context.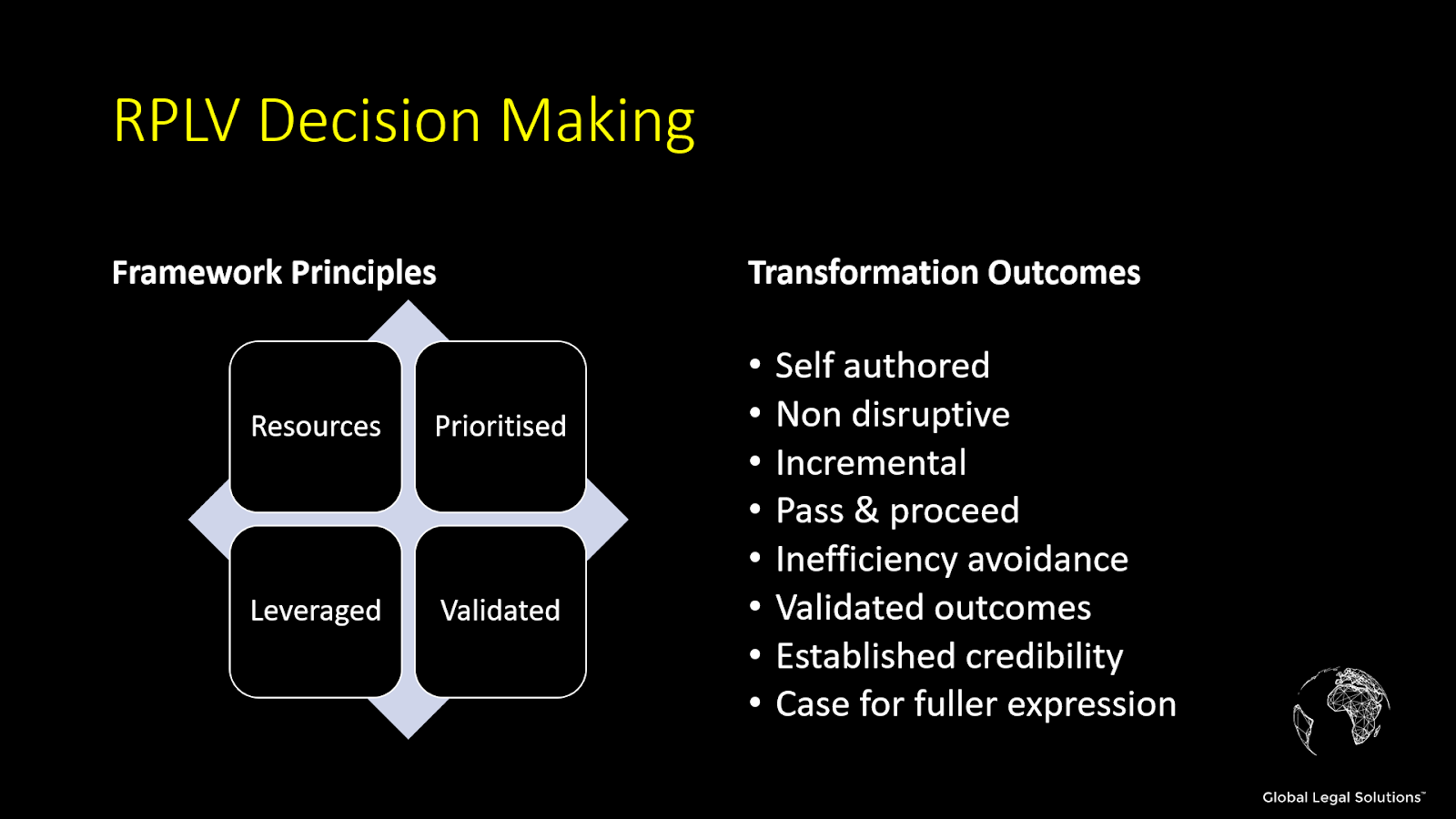 How it works is really simple. In-house lawyers simply place each of their every day-to-day decision making into the RPLV framework, particularly those decisions that relate to the use of limited legal department resources.
The elements that make up RPLV Decision Making, and which can very easily deliver a strategic planning context to all legal department decisions are as follows:
1.Legal Ops - Resources
Legal ops begins with an awareness of all resources available to the legal team and developing a strategic plan to optimize them.
In our experience most legal departments do not actually realize the full range of resources available to them or are too busy to actually use all the resources that they have available.
2.Legal Ops - Prioritization
Legal team decision making should always be made by reference to an approved domain of responsibility - that is a clear understanding of the priorities that the business has set for the legal department.
Ironically, far too many legal team operate on the basis of doing what ever is asked of them - something which is wholly inappropriate and setting the team up for perpetual failure.
3.Legal Ops - Leverage
It is important to ask, when considering how to allocate / task a finite legal department resources, which use allocation scenario will deliver the on-going productivity outcomes for the legal team and its Business?
Active consideration of the "legal resource leverage profile" as part of decision-making is absolutely essential but it is frequently overlooked by many legal professional in an in-house legal team environment.
4.Legal Ops - Validation
Not only must in-house legal teams achieve more with less, it must be able to demonstrate this to the business.
As such, before a legal team makes a definitive resourcing decision, it must give active consideration of the ability to validate associated resource performance outcomes.
Obviously there will be times where a legal team decision must be made where it is difficult to provide an objective report on the value that it creates (eg - briefing a law firm to defend a litigation claim).
However, the point is that it is increasingly important that in-house counsel make it a habit to ask - "if i make this decision, can i demonstrate the value i create to the business".
Why is RPLV such an effective legal ops tool?
RPLV places in-house legal team decision-making into a strategic transformation framework which allows for small and effective resource optimization steps to be identified, and missteps to be avoided.
Moreover, a steady, incremental approach based on small successful steps led by the In-House team is the ONLY pathway for a successful to achieve the effective transformation of your legal team as:
In-House teams are actually best placed to "author" their own transformation plan
change should come from within as most categories of legal resources are not fully used
foundational transformation can already be achieved with little to no expenditure
the In-House team must deliver results that the rest of the business will want to support
Whilst legal ops is often seen as the poster child for legal tech (e.g. contract automation, data analytic, predictive analysis, machine learning and artificial intelligence solutions), RPLV is the most important Day 1 legal ops step you can take.
Oh, and one more small detail - applying RPLV Decision Making is entirely free for you to use - and takes just minutes for you to apply to your decision making.
In the balance of this piece we will explain how RPLV works, along with how easy it is to bring a legal ops perspective to daily decision making in your legal department.
Available In-House Legal Team Resources
A key principle for a successful legal team transformation is that each and every class of legal resource deployed by a business must achieve optimal productivity expression.
Sadly, too many businesses view their legal resources in limited terms such as "headcount" and "external" budget – and in so doing deprive themselves of the ability to optimize.
Such an approach is like a professional sprinter training solely by running fast and disregarding core strength, explosiveness, visualization, flexibility, CO2 capacity, recovery, sleep, diet, routine, etc.
Accordingly, the essential pre-cursor to a successful legal team transformation is to identify the true scope and nature of legal resources available to your legal team.
GLS advocates that the In-House team must consider their legal resources using the below types of resource categories, each of which can be optimized and uniquely combined for optimal effect.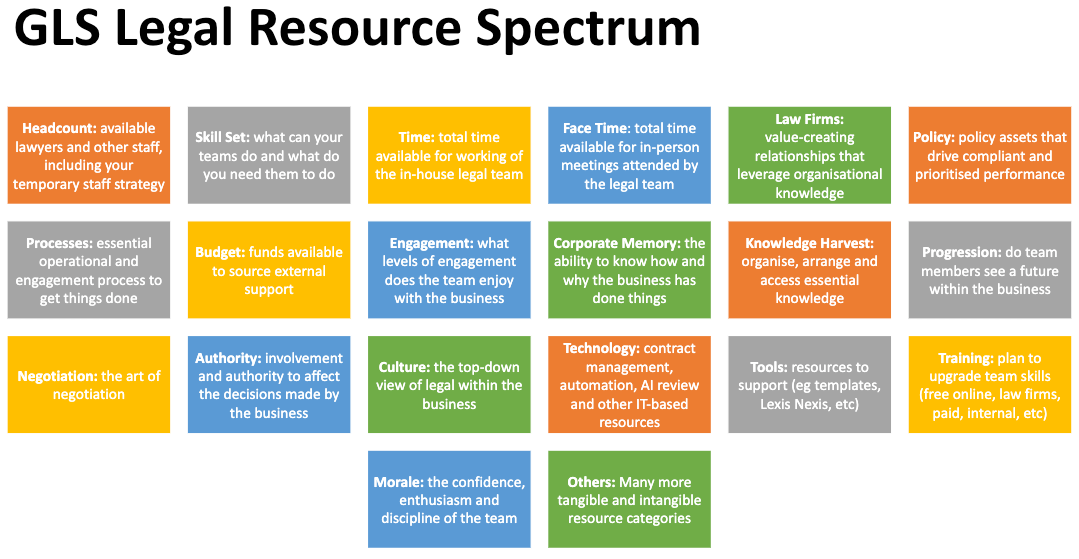 With this enhanced view of the available legal team resources, the ability to make strategic resourcing adjustments that deliver multiplier performance outcomes is greatly enhanced.
So here is your first "legal ops" wins that does not involve any legal expenditure. Simply take the time to correctly identify all of your available legal team resources.
A legal ops agenda focuses on "priorities"
If a legal team lacks mandate setting over its roles and responsibilities, and for that matter its decision making authority within the business, it lacks the ability to "prioritize" the resources it has available to it.
This is tremendously important for every legal department - particularly as legal team budgets become tighter as they are each and every year.
Few legal teams have the resources to do everything that it actually needs to do so most legal teams are forced to prioritise their focus - ideally on things the business most values.
Sadly, most legal teams do not benefit from a clear board-approved operational mandate, known to the business, which in turn contextualizes resourcing decisions and against which performance is judged.
If such policy assets are not in place, the your in-house legal team may find that its legal transformation efforts are hindered by the following "handicap" conditions:
a reactive footing – the team finds itself reacting to the business instead of actively pursuing established priorities in a manner that permits optimized resourcing
compromised capacity – the capacity, status and reporting lines are not easily understood by the business resulting in diluted effectiveness and diluted ability to influence the business
inability to performance manage – a lack of clear objectives and responsibility deprives the team the ability to performance manage and track progress against goal realization
inability to access resource – it is difficult to make the the case for essential resources if they do not relate to Business approved legal team priorities
All legal teams need a clear Legal Team Authority Mandate that clearly sets out its roles, responsibilities and operating authority. See how legal teams can solve this problem here.
So here is your second legal ops win - it will be far easier to determine legal team resourcing priorities if you have established a clear legal team authority mandate with your Business.
Legal ops maximizes resource leverage
Once your true inventory of available legal resources available is understood, choices can be made as to how to achieve optimal productivity resonance for each class of legal resource across the business.
Leverage profiling involves assessing the extent to which the deployment of a class of legal resource can achieve maximum ongoing and sustainable resonance across your organization.
As a simple example, commissioning the creation of a new legal template that your business will use all the time offers better ROI than a template for a one-off non-critical deal type.
It is noteworthy that the highest levels of legal resource resonance can frequently be achieved from legal resource classes that are needed to meet the 80% Requirement.
The leverage assessment includes looking at efficiencies that can be built into each class of legal resource itself and/or what can be achieved by that category of legal resource and typical questions include:
how frequently does the underlying legal support requirement arise?
how can the resource deployment benefit the business most?
what resource deployments create the loudest organization resonance?
how can the resource deployment be re-utilized by the business?
is there a productivity multiplier effect that can be achieved?
will the resource deployment result in a knowledge harvest opportunity?
does the legal resource category offer standardization potential?
can automation of the resource category/workflow be achieved?
what is the extent to which the deployment will resonate across the wider company/group?
In view of the above, it is easy to see why policy-based legal assets offer the highest organizational resonance and are essential for any New Law transformation.
The General Counsel that does not consider the leverage profile of each class of their legal resource, especially for the 80% Requirement, is likely passing up on utilizing significant levels of untapped capacity.
Legal ops is based around strong legal analytics
All corporate counsel teams must be able to demonstrate the value contribution they are making to their business in order to survive and particularly if it wants to support/funding for additional legal ops / legal transformation projects.
Increasingly, the notion that the intangible nature of the in-house legal role, driven by its non-P&L construct, renders it immune from performance management, is being rejected.
Accordingly, the extent to which you can track the productivity outcomes achieved by a particular class of legal resource is becoming an increasingly important factor in decision-making.
Successful legal teams will increasingly choose to operate in what we are calling the "empirical data domain" where they adopt and monitor performance metrics such as those set out below.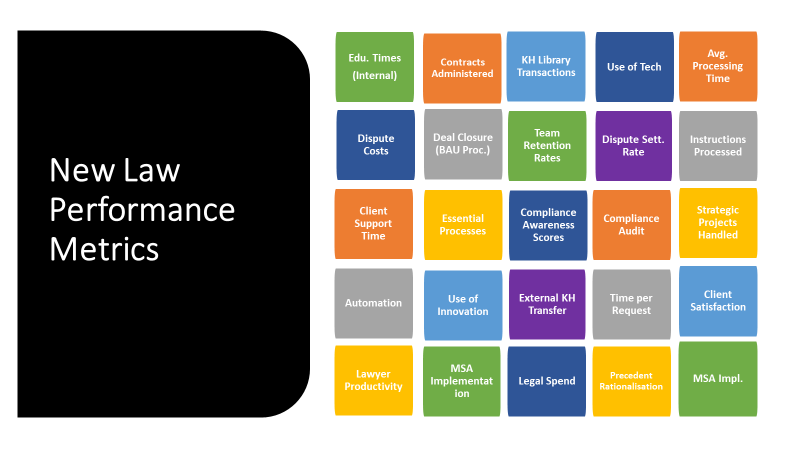 Rich performance data will allow legal ops focused legal teams to increasingly improve the quality of its decision-making and the productivity returns it can achieve from all classes of its legal resources.
To deny the increasing importance of data analytics to a legal department is a little like thinking that a mobile phone that can take pictures will not catch on. Legal teams must embrace analytic tools and data analysis to inform decision making and validate results.
The future is legal ops driven legal transformation
In-house legal teams must now also deliver far more "business-enabling" support to its business – it must contribute far more to the revenue and strategy-based projects of the underlying business.
This must be achieved as overall in-house workload continues to rise. The most successful legal teams demonstrate surgical focus, sharp prioritization, the ability to leverage, and the ability to validate their performance. Your legal team can increasingly achieve these outcomes each day with GLS's RPLV Decision Making Framework.
Effective legal transformation can be achieved by all legal team - including those that do not operate with a standalone legal operations team - as is the case for most members of the Corporate Legal Operations Consortium.
Yes legal tech enabled financial management, contracts management and sophisticated legal analytics tools are all part of the legal operations toolkit - but this blog is about what every legal team can be doing today.
All in-house legal teams can improve legal transformation success by adopting a legal ops outlook that can be effectively implemented by something as simple as adopting RPLV Decision Making.
And best of all - RPLV Decision Making is not only free for you to apply - it is means by which you can achieve greater productivity out of legal resources that you already have in place.
As an additional resource, we would like to watch our Legal Ops Mater Class Seminar on RPLV - you can find it here - "In-House Challenges and the RPLV Response".